One sunny afternoon I decided to go to the Alex Katz exhibition in Munich. I expected to see many beautiful portraits, maybe a few landscapes. It turns out the exhibition at the Brandhorst Museum offers both. Without being a huge retrospective it does give a proper impression of what his work and artistry are about from his early days to today. What really made this show interesting to me though, was that it confronted me with one question: what makes a portrait? I couldn't help feeling while walking through the exhibition that Katz's approach to portraiture whether in the traditional painting on canvas or the cutouts oil on aluminium figures doesn't quite comply with my idea of what a portrait is. Why is it so? Are these portraits?
a painting that looks simple
At the start of this exhibition, we see a full body painting of Paul Taylor, dating of 1959. Katz started working with Paul Taylor in 1960, producing numerous costumes and sets for the Taylor dance company. This is still the early years for Katz, but already we see his clear trademark style: a monochrome background and a figure on it. It's a rather simple idea, but actually quite refreshing and peaceful.  The background is clean and neat, no brushstrokes obvious or appearing to break the surface. The result is that there is a minimum of depth of field. The vision is reduced to one canvas and a figure on it. Actually it is quite a wonderful idea, seeing how our world has become so obsessed with multi-dimensional vision. Here we get back down to just what matters, and it is refreshing. "I try to make painting that looks simple." (A.Katz)
No expression, no content, no form?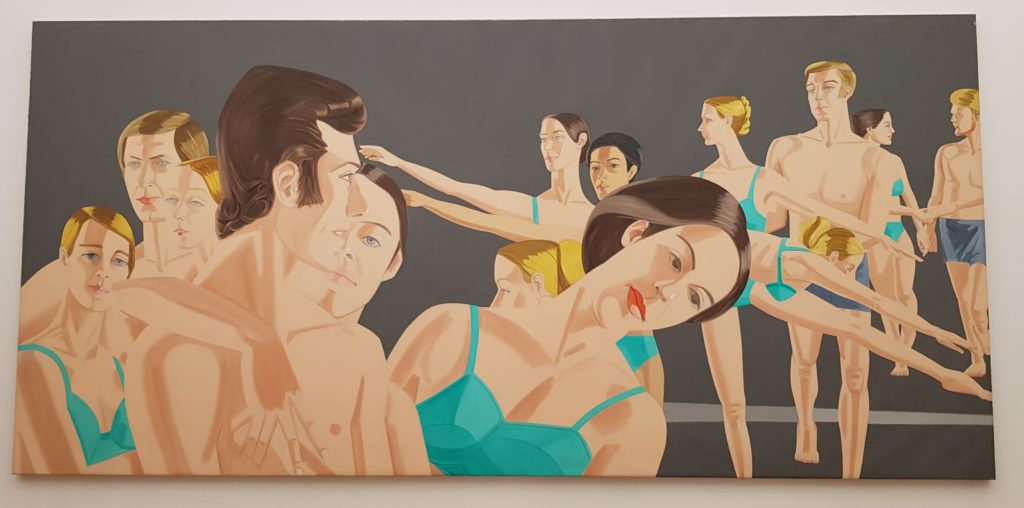 "Private Domain" (1969) is, however, the first painting one sees when walking in the entrance room. This big painting and "Paul Taylor Dance Company" (1963-1964)  next to it really explains a lot to me about Katz's artistic style. It seems to me, that Paul Katz is studying the physicality and aesthetics of the body here. His work with dancers as a set and costume designer seems logical when looking at these paintings.  Here are 2 paintings where the body is put in the forefront. Not the soul, but the physical aesthetics of the body. This is of course just my impression but it explains my starting to wonder whether it matters who stands in front of him, or whether the actual beauty and presence of the physique in space matters more. To confirm my thoughts this is what I found on his website about his impressions on Paul Taylor:
"I had seen Paul dance for the first time shortly before we met with Edwin [Denby] and thought his choreography was one of the most surprising things I had seen as an artist. Paul's dancing seemed to be a real break with that of the previous generation: no expression, no content, no form, as he said, and with great technique and intelligence." (A. Katz)
No expression, no content, no form? Could that apply for his paintings? The word Robot comes to mind when I read these words, but that is really not what Katz's painting is about. These are no machines on the canvas. There is an aesthetic, a beauty which shines first and foremost. And yes, this beauty does have to do with the people in the paintings. It is a physical beauty, a superficial pleasing to the eye with perfect clean faces, no wrinkles to be found.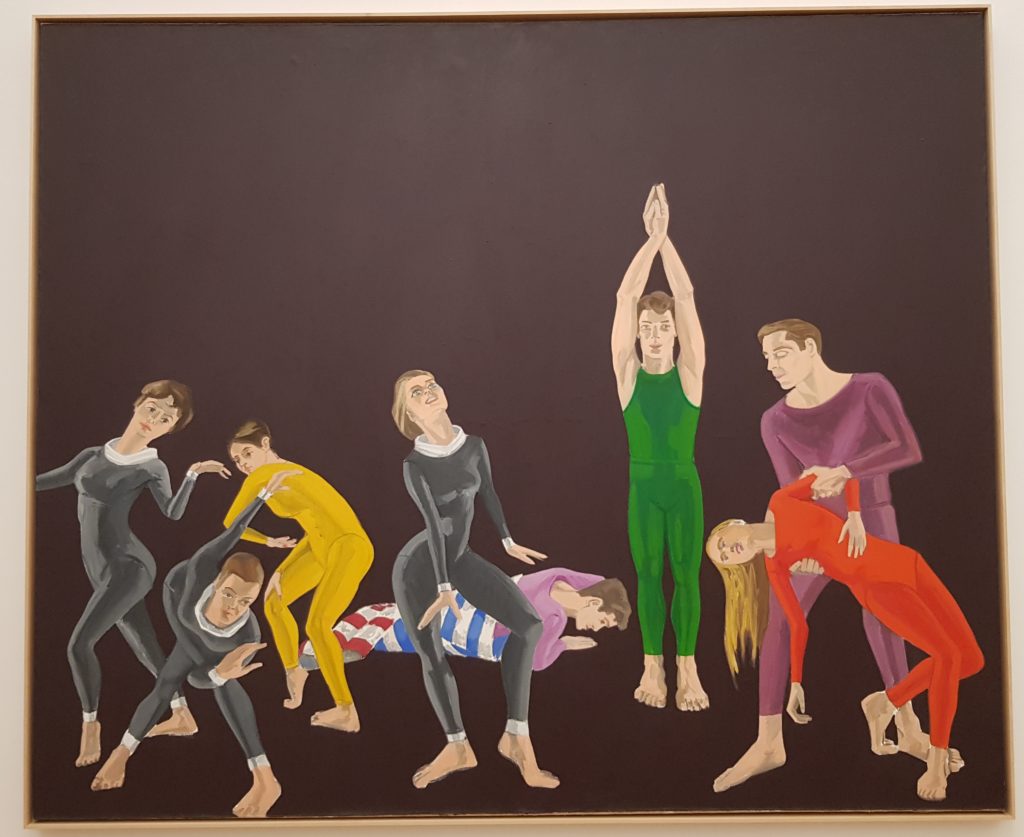 "I'm not telling you about the person's inner feelings, I'm not interested in that stuff. Most realistic painting has to do with the plight of man, which  I find horribly sentimental. I'd rather deal with the energy of life than the sadness of it." (A. Katz)
Fashion is ephemeral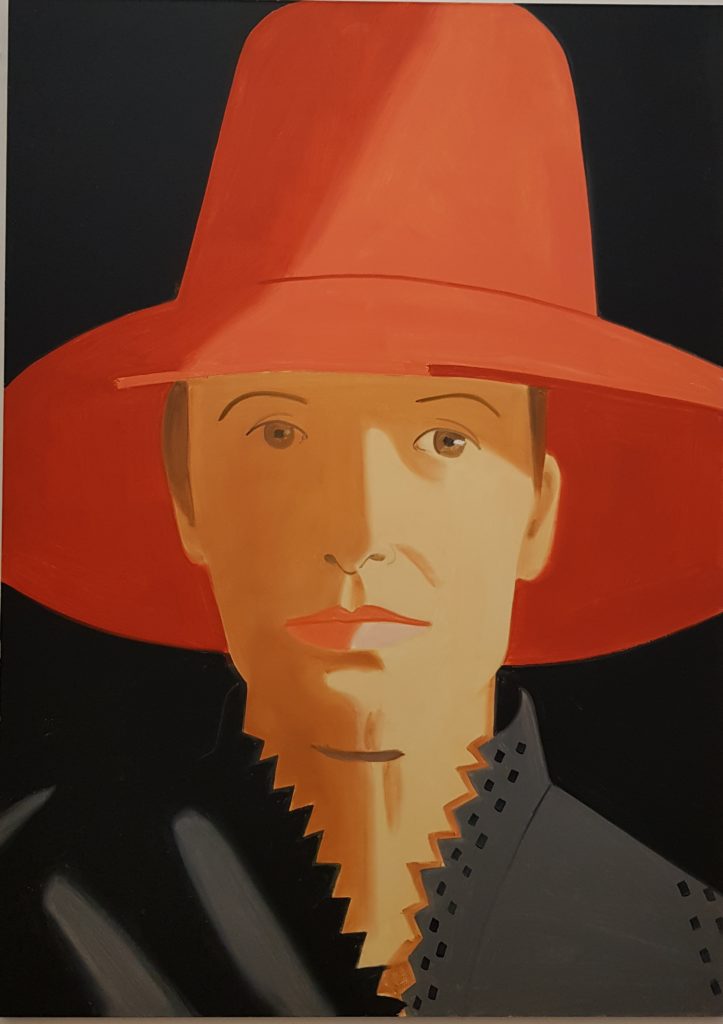 Katz is a very elegant and self-conscious man. Here is someone who at the age of 91 still does 4 hours of physical training a day! No wonder Katz is also said to be close to fashion. "I've always been interested in fashion because it's ephemeral." he says. In his later work "Red Hat" (Alba) of 2013, the hat takes almost half the canvas. This is a gorgeous painting in my eyes, yet not because of Alba, but because of the composition. Alba's face is present but without emotion, such as a model on the catwalk.  She serves her purpose. Is a beautiful woman, but this isn't about her, it's about the hat she is wearing. Or in "Grey Coat" (1997), where the coat covers most of the figure, Alba's face turning around to look at us in a direct yet distant manner being secondary to the actual full painting. Here I feel again Katz's fascinating use of the composition. Just like in photography. The figure is set in a diagonal on the left side of the canvas which in turn means most of the canvas is occupied by the monochrome background. Just beautiful.
Serial models

His work has also been said to be close to the cinema. In "eyes closed, eyes open" (2004), one sees this clearly. The same person side by side has once her eyes open and once the eyes shut. Like an attempt to create movement through stills. Again a very beautiful painting, but a portrait? Even though the painting is about a figure, a face, in this case that of Vivien, it seems to me to be just too perfect. She is almost like a fashion doll. Saying that it doesn't take away from the beauty of the work.  And that is quite incredible, to see that a painter can achieve that.
In "The Black Dress" (1960) Katz uses the image of Alba 6 times standing in various ways and also sitting, always dressed in the same black dress, yet all 6 figures are interwoven in a scene. In this painting, we do have a floor, some wall panels, and a section of a portrait by Katz. But the depth of field is still reduced to its minimum. And the person? Alba? Well, we see her 6 times in different poses, her facial expression though is secondary to the actual physical connections created by the composition. The painting stands strong with a story but not a personal story.
Renaissance Technique
Maybe this feeling is created by the technique Katz uses for his big paintings. In the early 1960s, as he was beginning to paint bigger, he started using the cartoon drawing technique from the Renaissance. For this, he makes a large line drawing with holes pinched along the lines. A small amount of charcoal or graphite go through the holes on the canvas and create thus a faint outline for his composition. This allows him then to repeat a figure or to repeat a whole painting just like in "Laure and Alain" (1964/1991). The same painting twice, put together side by side as one. The original was done in 1964 and then repeated again in 1991. The only difference is that in the later version his craftsmanship has been mastered expertly meaning that for instance the light in the hair of Laure is more subtly painted. Both figures seem in their own world, Alain is in profile, Laure frontal.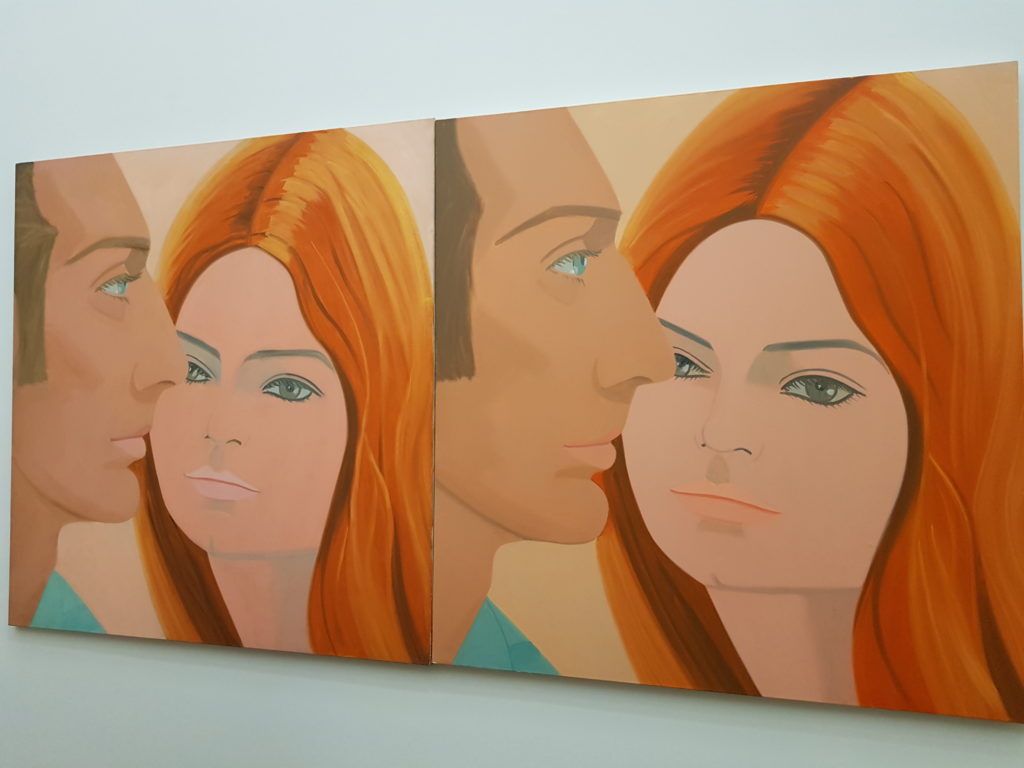 So, is this a portrait, Mr Katz?
To go back to my original question: are these portraits? Well, my first reaction says they are not. I feel a portrait is something personal. It is first and foremost a vision of a person, of the whole being with wrinkles or tired eyes. We all have different visions, of course, we all see things with our own eyes, and in my opinion, a portrait is the vision by a painter of a person's soul. In Katz' paintings, I feel it is about the painting, the aesthetics of the painting, the colours on it, the composition of it, the beauty of it… so really the people on the canvases are "just" models for the work of art Katz produces. Saying that, when I think of today's obsession with looking young and being self-obsessed: the selfies, the likes and the Influencers' "look at me" pose, well maybe Katz is just reflecting that and is after all making the portraits of today!
"The pictures are supposed to be lyric, they're supposed to give you an up, I want to make something that's sort of like your happier condition. Impressionist pictures are basically that—Impressionist painting is a happy lie." (A. Katz)