O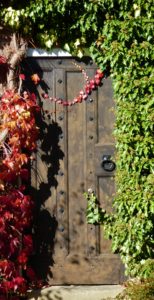 n the day when I was asked to contribute to this blog, I had by happy chance posted just a couple of hours earlier on Facebook about a children's author who had attended our rehearsals for a production of Puccini's "Gianni Schicchi" (she was there as a chaperone for her daughter), and ended up so inspired that she'd started writing a book based on what she'd experienced. I was thrilled by this, and ended the post with something like "art speaking to art".
It's something I feel passionate about, the way in which the arts can surprise each other, stimulating new ideas, waking us up to new possibilities, and ultimately connecting us in more and more interesting ways. We're all telling stories, in our various ways, and the difference between a good story and a great one often lies in the details. Some of those details come from looking curiously at life as it passes, at the people we meet, at ourselves; others, given that we can't experience everything for ourselves, come from the stories others tell. And the more different ways we can find of experiencing others' stories, the richer our inner lives become, and the more we can tell our own stories in the most interesting way possible.
It's a cumulative process, and one which definitely cannot be ordered and quantified (I like to think of it as similar to T. S. Eliot's "These fragments I have shored against my ruins".) You never know what might come to mind when, for example, trying to interpret an operatic role. An understanding of a particular facet of their nature might have come about from a character in a novel read decades ago; their bearing influenced by the beauty and pain of the ballet you last saw; a particular gesture cribbed from a painting seen in a foreign city; it's all grist to the mill.
Of course, this applies to all of us, not just those who work in the arts. But I hope that a few of us who do can use this blog as an occasional place to drop in a few little words and hopefully inspire people out into the arts world to gather fragments and enrich all our lives. I personally can't wait to read the children's book I referred to in my first paragraph. Talk about shared stories! The author was inspired by our production, which was the combination of all our interpretations put together; we sang Puccini's glorious music, which he set to a libretto by Giovacchino Forzano – and HE based his story on an incident in Dante's "Divine Comedy"! Stories, stretching through history, being retold, embellished, refreshed, embroidered, twisted, watered down, peppered up, seen from a new angle – the more the merrier!