An exhibition off the beaten path at Haus der Kunst in Munich.
I recently discovered this artist and his incredible work. A discovery that does not leave indifferent, quite on the contrary.
First of all, the facade of the museum is completely covered and transformed by the hand of the artist. This already triggers my curiosity.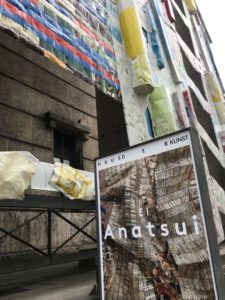 Once in the Haus der Kunst, we enter the first room and immediately we have the impression that a huge majestic drapery fell on the wall.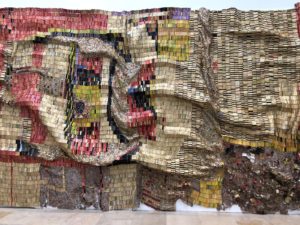 We turn our heads to the left, and we have the impression that a huge net and its shells are hanging.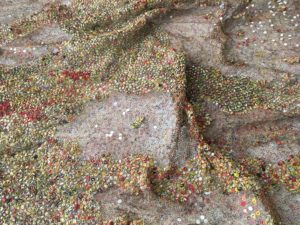 Two absolutely unexpected impressions for me. We approach, curious, and we realize that the sections of fabric, like tapestries, are nothing other than bottle caps, cans and aluminium pieces, collected, cut, hammered, folded, twisted and assembled with great care. The same on the other side with shells, plugs folded in another way, is just as beautiful. The illusion is perfect.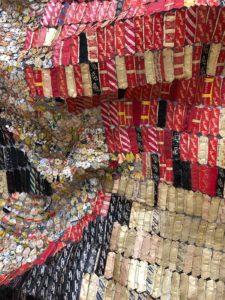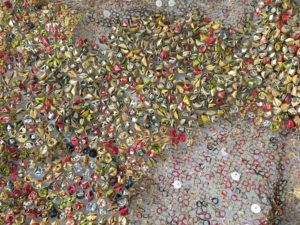 Arriving in the central hall, a labyrinth faces us, the artist invites us to walk inside, be close to his work and by making so, we change perspective.
In the different rooms, we discover other facets of the artist, other materials with which he experimented. His use of wood, but also ceramics.
Indeed, he begins in 1976 by modelling the ground, breaking pots, then glueing them together, a metaphor of the African society.
What particularly caught my attention was his work on wood, recovered in the street, pieces of furniture, thrown away drawers, broken, dislocated… He cuts, polishes, burns, paints these pieces of wood. By unifies them, he is forming an artwork.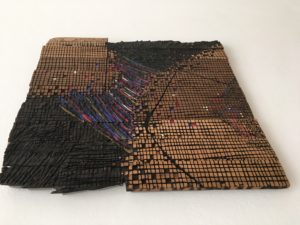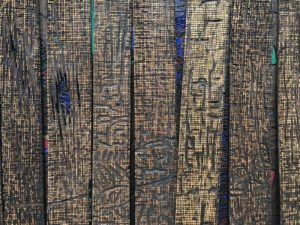 Look at this magnificent blue behind the wood, in the wood…and this feeling for detail
What is most remarkable is that all his works of art, are transported and made up of several pieces, then reconstituted always in a different way so that no exhibition is identical to another. This gives a certain movement, a freedom to the artist. The work is not static, it lives.
El Anatsui learned through the last five decades to master sculpture, painting and assembling.
All his work is very committed. For me, it carries a message that goes beyond African society. Using all these objects or pieces of torn things that no one wants, gathering this rubbish to finally unite it and make something beautiful with it. Creating a work of art with shimmering colours,  sublimating these little bits of nothing and letting them exist, it is simply magnificent and inspiring. I see our history in it, I see hope and more.
I hope you will have the urge and the chance to discover this artist if you haven't done so already.
Erika Luisella